Table of Contents
1. Account Settings
1.1 Account
Profile
Update your personal information (Name, address, birthdate, etc.)
Upload a profile photo
Update/Verify your email address (email address must be verified to receive daily workout emails, notifications, and/or newsletter)
Change Password
Settings
Coaches
See which coach(es) you are currently attached to or shared with. Add a coach, share your account with a coach, or remove coaches from your account.
Calendar
Paste this url into your Google, Outlook, Apple, or other third party calendar to sync your TrainingPeaks workout to that calendar
Email Options
Enable email of daily planned workouts, change delivery time, and opt in for the TrainingPeaks newsletter
Notifications
Enable/Disable notifications such as uploaded workouts, comments from your coach, or suggested threshold changes
1.2 Zones
Heart Rate, Power, Speed/Pace
Set your thresholds and zones

Typically

Heart Rate for Bike and Run
Power for Bike
Speed/Pace for Run and Swim

Note: if you do not set a threshold for a specific sport and upload that sport type 'default' will be used.
Note: Setting your thresholds and zones is extremely important since all of the TrainingPeaks metrics are based on thresholds.
Notifications
Enable/Disable Threshold Notifications
Enable/Disable 'Automatically apply new treshold'
1.3 Nutrition
Calorie Goals
Enter a daily calorie goal based on how many calories you want to consume exluding those that you would burn through exercise,. This number will be combined with the caloric expenditure from exercise and displayed in dashboard charts that display calories consumed vs calories expended
1.4 Equipment
Bikes/Shoes
Add bikes and/or shoes to track the mileage. Equipment can be selected from the workout QuickView and mileage will automatically accrue based on completed workouts
1.5 Layout
'Layout' allows you to customize what you see on your calendar, the week summary, QuickViews,  and what metrics are available.
Calendar
Moving data items from 'available' to 'in use' will make them visible on your calendar. Use less data items to save room on your calendar.
Compliance
Completed workouts will colorize based on compliance with planned duration, distance, or TSS. Moving the data item up or down in the list prioritizes it with top being given top priority.
Within 20% the workout will turn g

reen

, within 50% it will turn y

ellow

, and over or under by more than 50% will turn red.
QuickViews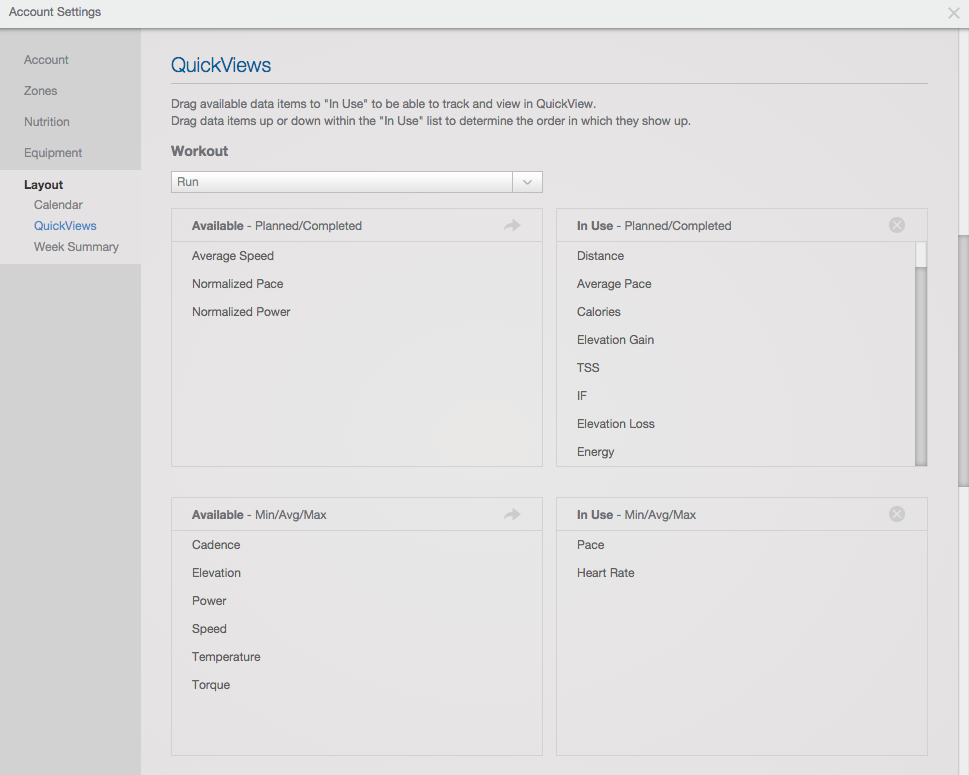 Dragging data items from 'Available' to 'In Use' makes the fields visible in the workout QuickViews.
These settings are sport specifid allowing QuickViews to be configured differently for different sport types.
Metrics
Dragging metrics from 'available' to 'In Use' makes the metrics available when adding a metric on your calendar.
Week Summary
Dragging ATP items from 'Available' to 'In Use' makes the items visible on the right side of the calendar to help with weekly planning.
Note: You must have a completed Annual Training Plan (ATP) for these items to appear.
2. Calendar
 Plan a Workout, log a Metic, add a Goal or Event

Click  to use the Workout Builder to automatically create a structured workout containing detailed intervals.

 Save a Workout to your Workout Library for future use
 Apply a Training Plan from your Training Plan Library
Upload your workouts

 Upload a Compatible Device file from your computer
Drag and drop a file onto your calendar, the file will be automatically uploaded to the correct day.
Set up Autosync for your device

Analyze a device file

Click on a Workout to access the Quick View which contains summary information about the workout
Click Analyze to analyze a file with charts and graphs in the Expanded View
Expanded View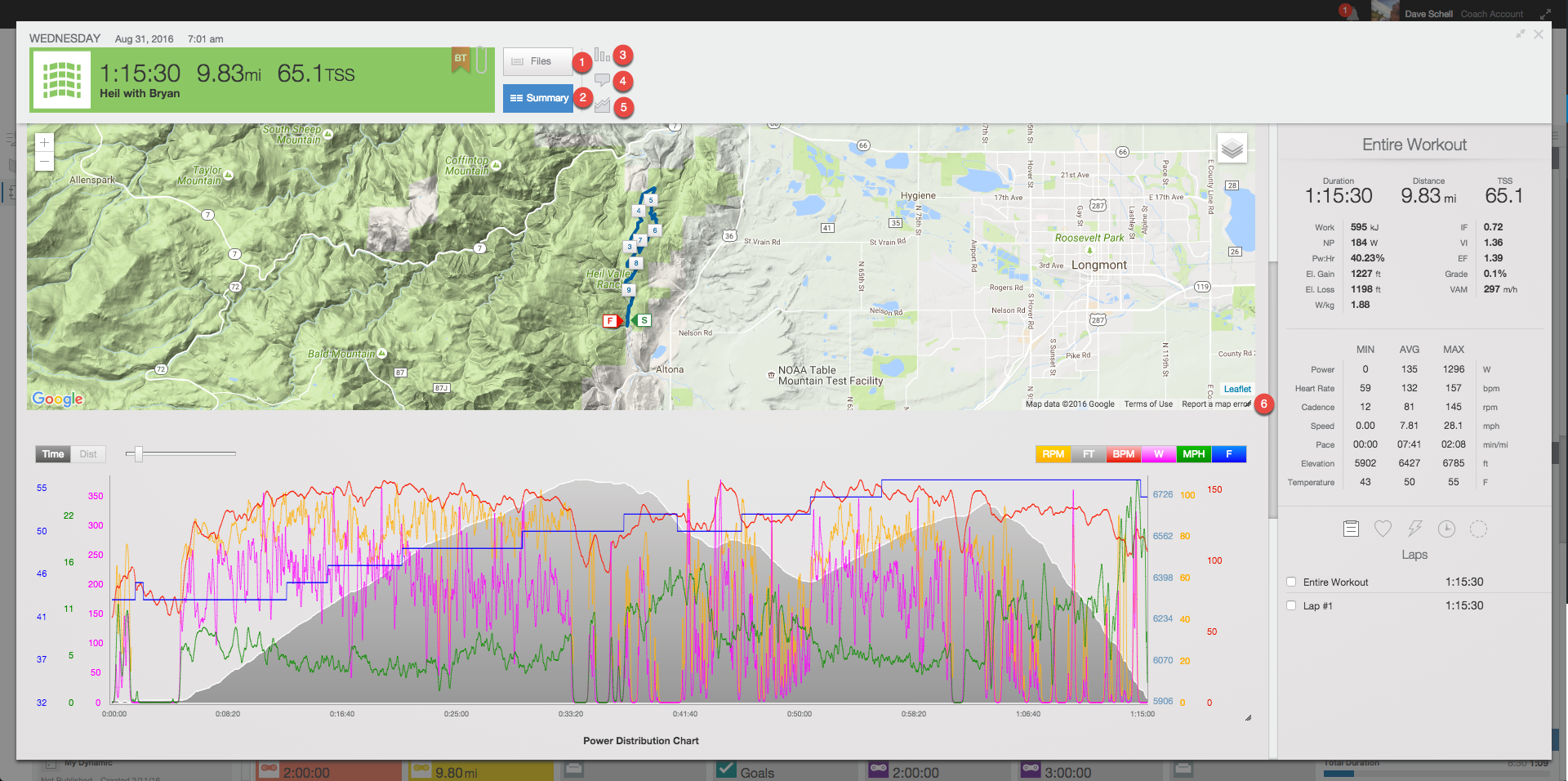 Download file, recalculate metrics
 Return to QuickView
 Charts Library
 Description, Pre/Post activity comments
 Elevation Correction
 Drag to resize window
3. Home
3.1 Weeks until next Event
Shows how many weeks until your next 'A' event.
3.2 Upcoming Events
Shows all upcoming events
3.3 Goals
View/Complete current goals or add a new goal
3.4 Upcoming Workouts
Today and tomorrow's scheduled workouts.
3.5 Today's Fitness and Ramp Rates
Today's Fitness, Fatigue, and Form and ramp rates for the last 7, 28, 90, and 365 days.
3.6 Today's Training Zones
View the corresponding training zones for today's scheduled workout(s)
4. Dashboard
Drag and drop charts to your dashboard from your charts library .
Customize charts under under settings .
Add the same chart multiple times but customize it to view the data for different date ranges, sports, or in a different way.
The Performance Manager Chart allows you to model your Fitness, Fatigue, and Form to help you plan the perfect peak for your goal Event.
5. ATP (Annual Training Plan)
Create new ATP 
Select existing ATP
Edit current ATP 
Adjust ATP Settings