Garmin Connect Autosync allows you to automatically sync completed activities and body composition data directly from Garmin Connect to TrainingPeaks, as well as future Structured Workouts from your TrainingPeaks calendar to your Garmin Connect calendar and your compatible Garmin device.
For FAQ and additional help troubleshooting the integration with Garmin Connect, please refer to this article.
How to Sync Your Garmin and TrainingPeaks Accounts
First, check your

Garmin Connect Permissions

to make sure TrainingPeaks has access to your Garmin account.

Next, log into your TrainingPeaks account from a computer and navigate to

https://www.trainingpeaks.com/account/garminconnect

. You will see the screen below.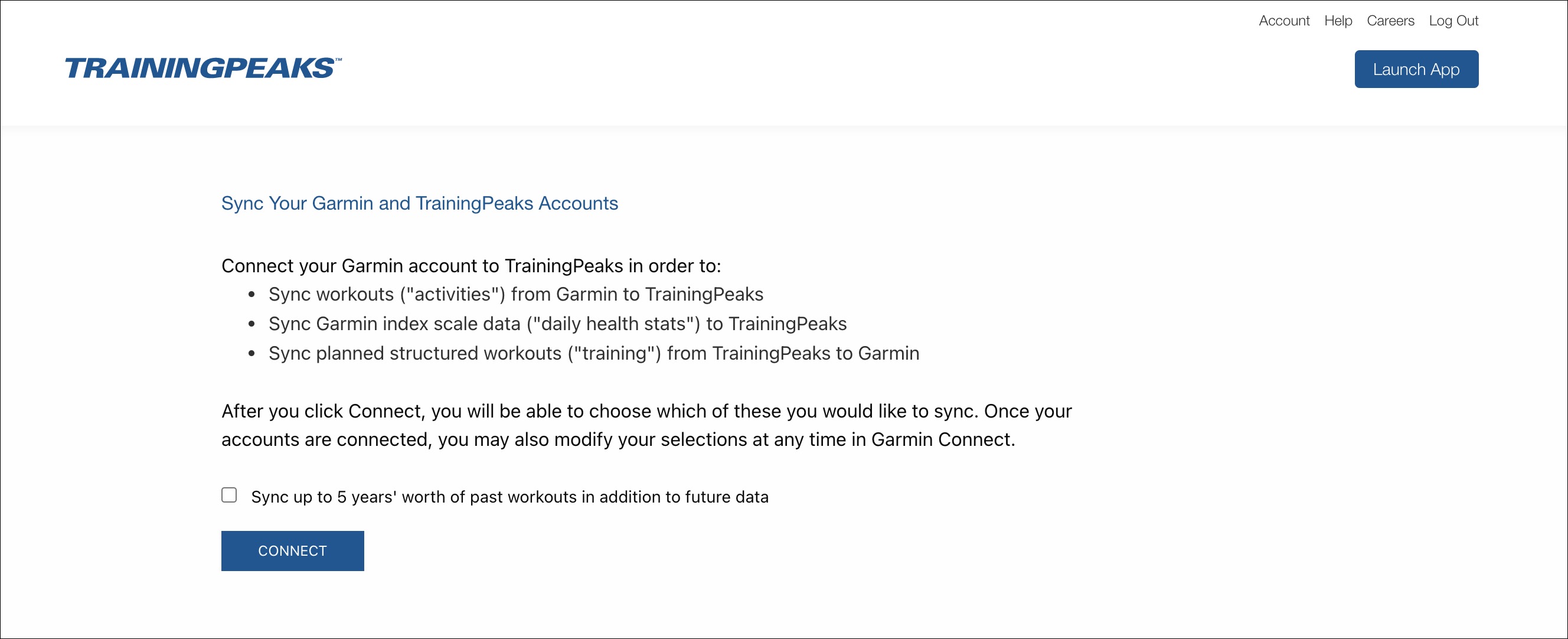 If you have previous activities in Garmin Connect and a new TrainingPeaks account, select "Sync up to 5 years' worth of past workouts in addition to future data".

If you do not want to sync historical workouts from Garmin to TrainingPeaks, do not check this box.

After you click "Connect" you will be able to choose which data you want to sync:

Completed workouts or "Activities" (from Garmin to TrainingPeaks)

Planned Structured workouts or "Workouts" (from TrainingPeaks to Garmin)

Daily health metrics (body composition) data (from Garmin to TrainingPeaks)
What to Expect After Syncing Your Garmin and TrainingPeaks Accounts
Syncing Workouts From Garmin Connect to TrainingPeaks
Previous workouts from Garmin Connect can take up to 24 hours to sync to TrainingPeaks. Do not disconnect your accounts during this time. You will not be able to attempt the history sync again and will then need to manually import all of your previous workouts.

If you do not see previous workouts, try syncing a new activity

The next time you upload a workout to Garmin Connect from your device, it will automatically sync to your TrainingPeaks account immediately.
Syncing Workouts From TrainingPeaks to Garmin Connect
Once you have linked your Garmin Connect and TrainingPeaks accounts, the next 15 days of eligible structured workouts on your TrainingPeaks calendar will immediately sync to your Garmin Connect calendar.

A Garmin Connect icon on the workout Quick View in TrainingPeaks indicates that the workout has been synced to Garmin Connect.

The next time your Garmin device syncs with Garmin Connect, your TrainingPeaks workout will be sent to your device. Depending on the model of your Garmin device, your workouts will sync by Bluetooth, WiFi, LTE, USB cable, or ANT+ Stick. Find more information about getting your workout from your Garmin Connect Calendar to your Garmin device

here

.
Syncing HRV, Sleep, Body Battery, Body Composition, RHR and other health metrics
If you are using a Garmin Index scale, the following metrics will sync to TrainingPeaks.

Weight

Percent Fat

Muscle Mass

Water Percent

BMI (you will need to have your height entered in your Garmin Connect profile)

If you are using a Garmin watch or other wearable, the following Daily Health Stats will sync

Body Battery (the highest and lowest value for each day)

Stress Level (the daily average)

HRV (with compatible devices)

Resting Heart Rate (RHR)

Sleep

Sleep hours, Time in Deep Sleep, Time in Light Sleep, Time in REM Sleep, and Total Time Awake

If you are already syncing Body Composition data, you can start syncing Daily Health Stats as well.

Mobile:




1. Open your Garmin Connect mobile app




2. Go to Settings > Connected Apps > TrainingPeaks




3. Toggle on Daily Health Stats




Desktop:




1. From your Garmin Connect account, click Profile and Account in the upper right corner




2. Select Account Settings > Account Information > Connected Apps > TrainingPeaks




3. Toggle on Daily Health Stats

If you are not using a Garmin Index Scale, you can also manually enter your weight in Garmin Connect, which will then sync to TrainingPeaks. No other manually entered values will sync.

There is no option to sync historic body composition or daily health data (i.e., only your current data will sync to TrainingPeaks).

Learn how to configure which metrics display on your calendar here.
If you have more questions or need help troubleshooting Garmin Connect Autosync, see our FAQ and Troubleshooting Tips page.