Whoop users can enable a one-way sync to TrainingPeaks to see Whoop metrics on their TrainingPeaks calendar.
Syncing
WHOOP

To TrainingPeaks

1. In your WHOOP app, click on the ☰ icon

2. Click Integrations

3. Click the 'TrainingPeaks' tab.

4. A pane will open and you will be prompted to enter your TrainingPeaks username and password. Please note that you will need to enter your TrainingPeaks athlete account username and password, not your TrainingPeaks coach account password.

5. Confirm the sync by clicking 'allow'.

6. You should receive a confirmation message if the sync is successful.

Of Note:

1. The WHOOP>Trainingpeaks sync is not historical. Whoop metrics will only be synced over after the sync authorization is complete.

2. If you cannot see metrics synced after the authorization, make sure that your TrainingPeaks calendar has metrics 'on'. Log on to your TrainingPeaks athlete account > Click the Calendar > Click the ☰ on the top right of the calendar > make sure 'metrics' are checked.

3. Whoop does not send workouts to TrainingPeaks, only the compatible metrics
Available Metrics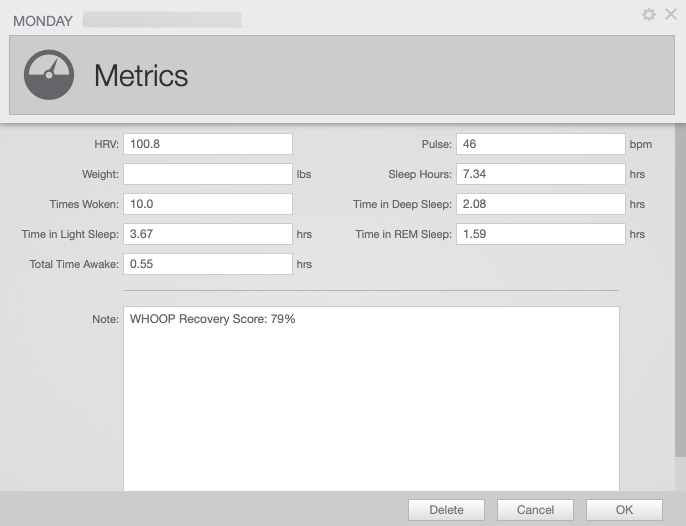 Example of the imported Whoop Metrics Card in TrainingPeaks
At this time, TrainingPeaks imports HRV, Pulse (Resting Heart Rate (RHR)), Sleep Hours, Times Woken, Time in Deep Sleep (SWS), Time in REM Sleep, Time in Light Sleep, and Total Time Awake. We do not currently import Whoop proprietary metrics like Strain, Recovery, or Sleep performance.
Whoop Dashboard Chart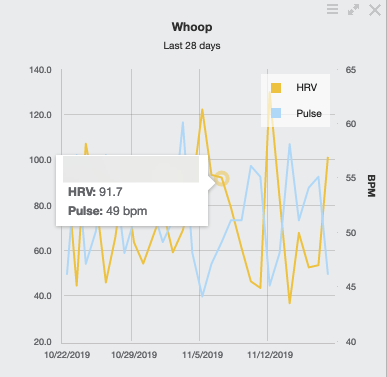 TrainingPeaks Premium users can create a dashboard chart with WHOOP data. To do so, log on > click 'Dashboard' > Click the Chart Library Icon > Drag and drop the 'Metric chart' into the Dashboard > click the ☰ on the top of the chart > configure what Whoop metrics you'd like to see > select the desired time frame > save and close.
WHOOP PMC Mobile Overlay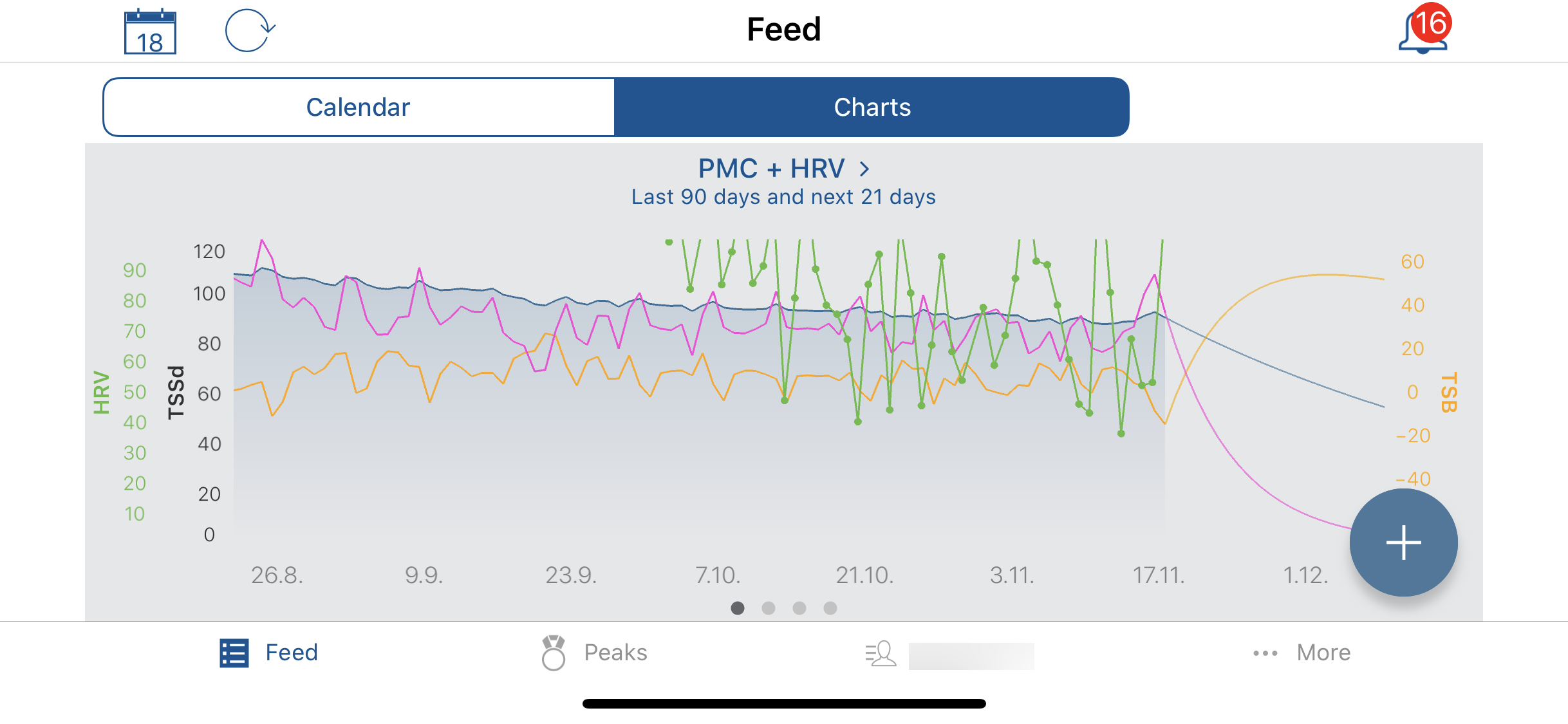 TrainingPeaks PMC/Whoop HRV Overlay (TP Mobile Only)
Users have often requested seeing their HRV data overlayed onto the Performance Management Chart. You can do so, but this function is only available to TrainingPeaks Premium users on the TrainingPeaks Mobile App. Log on to TrainingPeaks Mobile > Click the 'Chart Title' at the top so the menu navigates to charts > click 'The Chart Title' > Click 'Add Chart' > 'Choose PMC' > Under Settings, select 'Metrics' > Choose the WHOOP metrics you'd like overlayed on the PMC > Click 'Back' > Make sure the metrics tab is 'On' (It will appear green if it is) > Set Desired Date Range > Click 'Back' > Click 'Finish'.
WHOOP and WKO5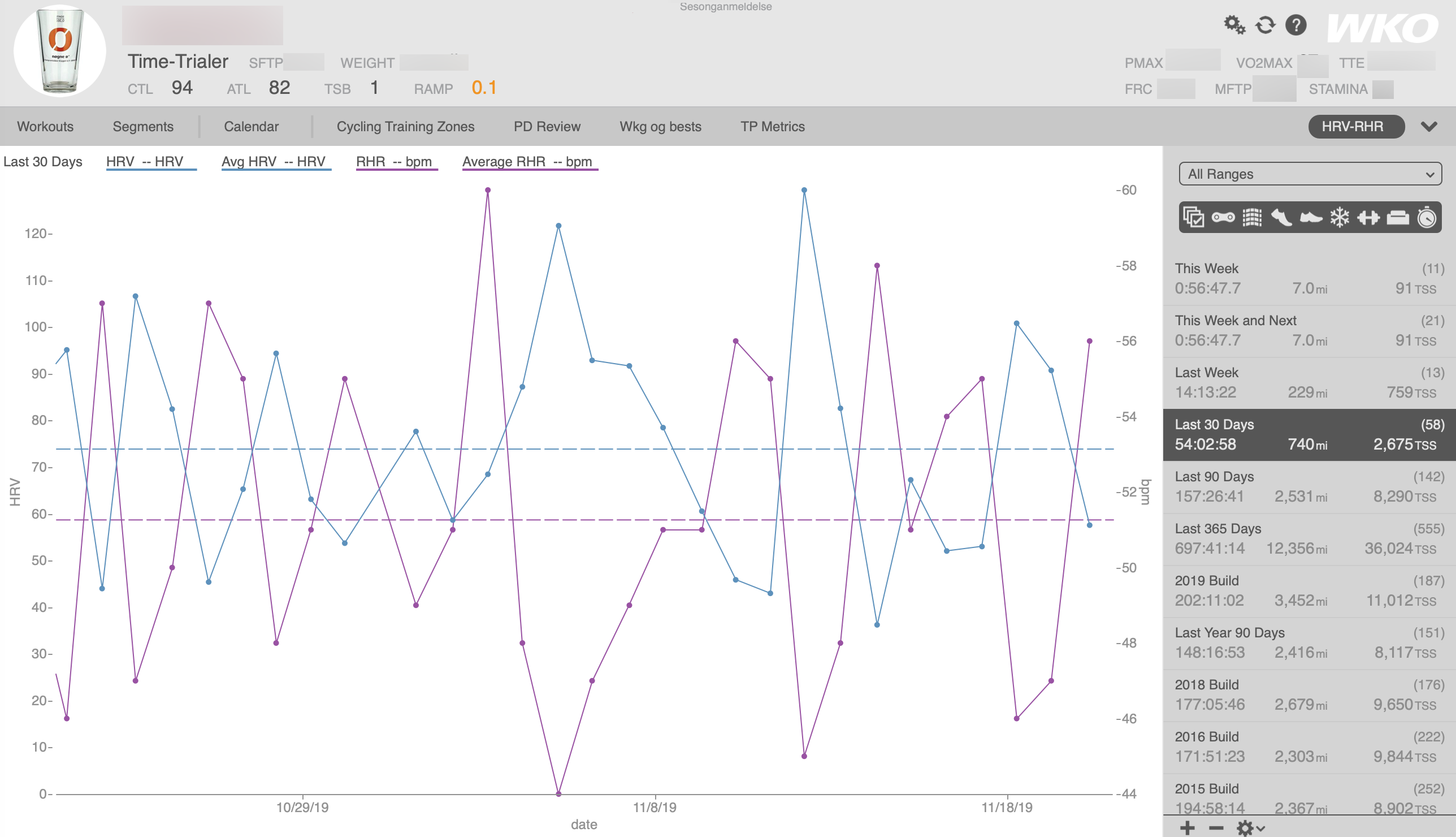 If your WHOOP data syncs to TrainingPeaks, it will also be synced to WKO5. That data is visible in your metrics data and is also available for use in whatever charts/dashboards you choose to incorporate it into. For chart ideas, join the WKO Power users group on Facebook and search for 'WHOOP' or 'HRV'.