TrainingPeaks athletes can connect Apple Health with TrainingPeaks to easily sync workout files recorded on Apple Watch's Workout App.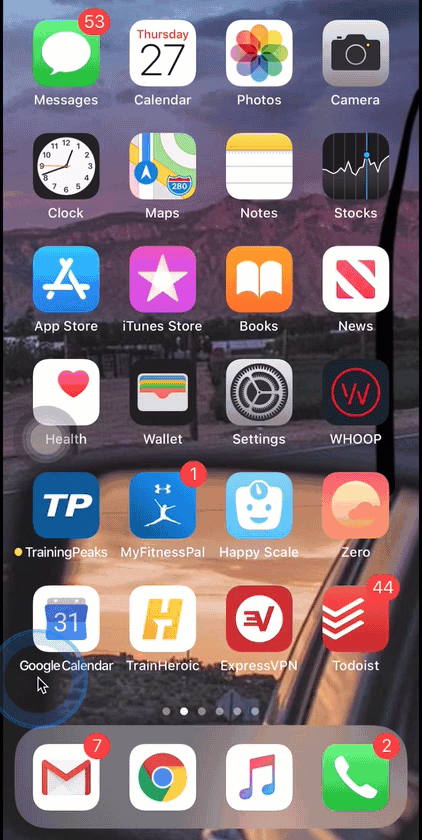 Open the TrainingPeaks athlete app
Enter your login credentials
Click more
Click settings
Click "Connect Health App"
Click "turn all categories on"
Click allow in the top right corner
If successful, 'Connected' will appear under the health app
For complete instructions on how to record a workout on your Apple Watch using the Workout App click here.
Any workouts recorded using the Apple Watch's Workout app will automatically sync to TrainingPeaks upon completion.
Please note that the sync from Apple Watch to TrainingPeaks only works with Apple's Workout App, it does not work with any other app available on the Apple Watch at this time.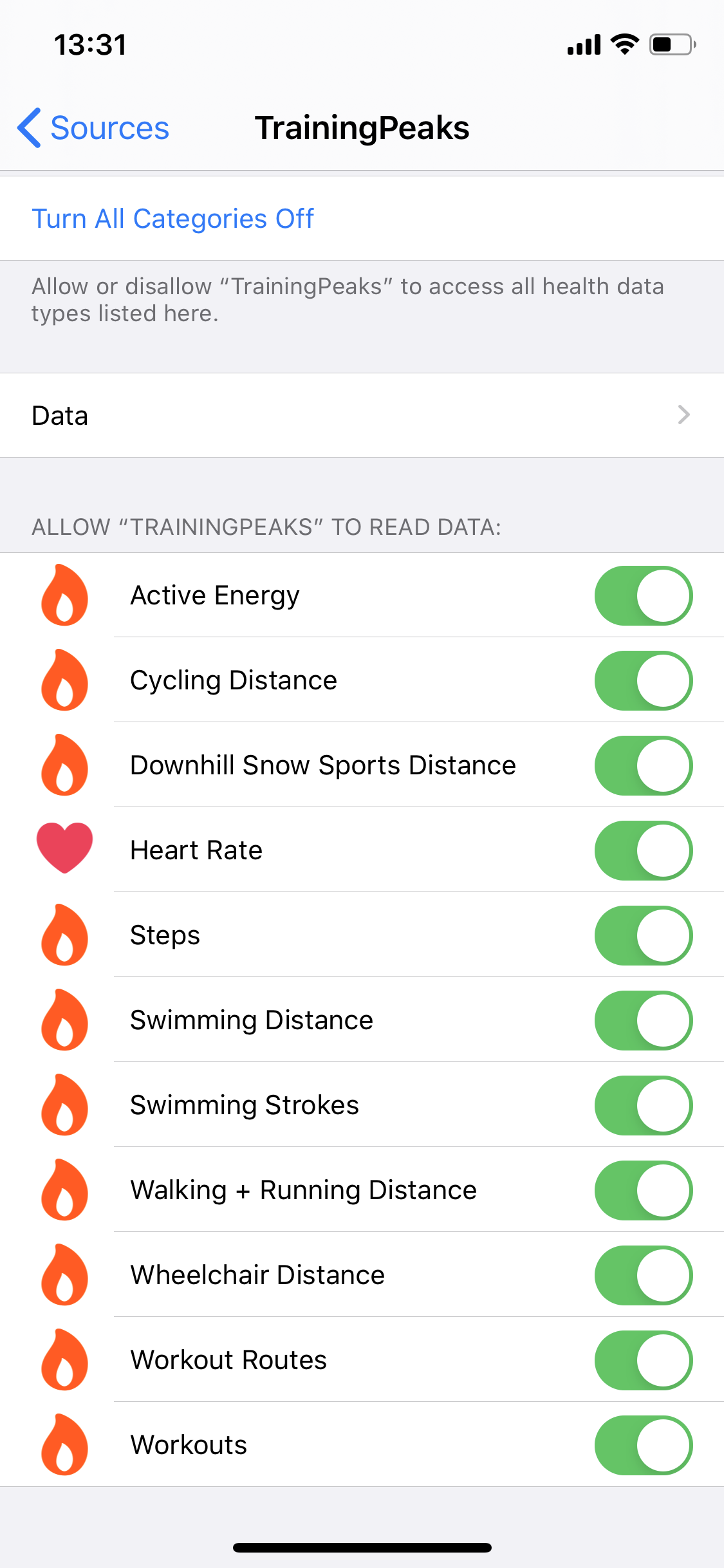 Click Settings
Click Privacy
Click Health
Scroll and select Trainingpeaks
A list of authorized available metrics appears. Should all metric categories remain in the green 'on' position, any activities that record data in the relevant data field will sync with your completed workout.
Should you prefer not to give TrainingPeaks permission to receive files with a certain data field, click the toggle in the relevant metric field to the off position so it is no longer green.
Open settings
Click Privacy
Click the Health App icon
Select TrainingPeaks
Click 'Turn All Categories Off'
After deauthorizing, TrainingPeaks will no longer receive any completed workouts from your Apple Watch.
Only workouts recorded after the authorization of TrainingPeaks and Healthkit will sync to TrainingPeaks. At this time a historical workout sync is not available in order to prevent a mass upload of duplicate workouts from the Apple Watch to TrainingPeaks.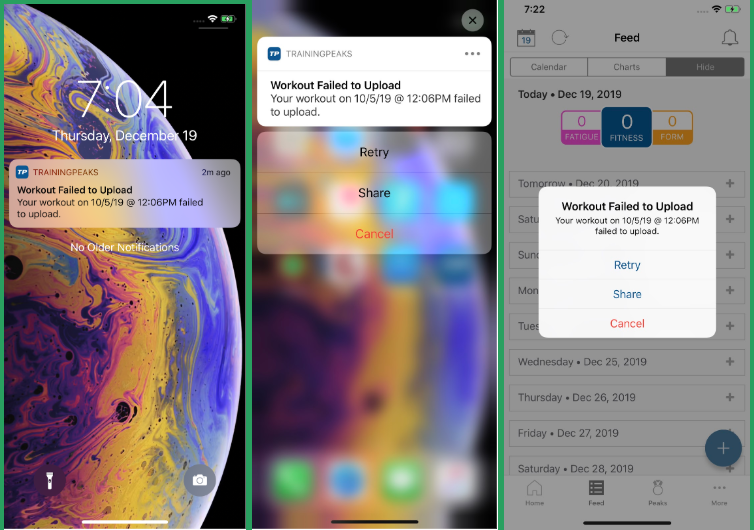 If a workout isn't uploaded, you will see a notification that the upload has failed to post onto TrainingPeaks but the file is available.
A notification will appear which, if clicked, will open the TrainingPeaks athlete mobile app and provide 3 actions: "retry", "share", or "cancel". In most cases clicking 'retry' will resolve the issue.
The typical reason for this error is unstable network coverage when you complete the workout. e.g. You're in the bottom of a canyon and complete your workout.
The minimum set of second by second time series data that we would need to accept a file produced on your Apple Watch Workout app is duration and at least one other data channel like heart rate or pace.
If you have authorized all data channel categories in your initial TrainingPeaks and Healthkit integration, then this will not be an issue. If you have deselected a number of data channels, however, there may not be enough data to accept the file.
To change that, do as follows:
Open your phone settings
Click Privacy
Click the Healthkit app
Click TrainingPeaks
Authorize more data channels by clicking the toggle from off to green.
General Setting Requirements
If you have completed a new workout since establishing a connection between the Apple Health app and TrainingPeaks, please check the following settings on your phone:
1. Notifications should be enabled. Both, in the TrainingPeaks, and on the phone. (Phone Settings > TrainingPeaks > Notifications)
2. Background refresh should be enabled for TrainingPeaks. (Phone settings > General > Background App Refresh > TrainingPeaks > on)
To try and push a workout to TrainingPeaks:
1. The phone needs to be open and unlocked to send the workouts when they are completed. If it is not you need to open the app to trigger a sync.
2. If the apps are already open, bring them forward, if that does not work try closing and then re-opening TrainingPeaks and Apple Health.
**Please note that low power mode will limit the frequency that our app can access your workouts and may impede syncing.
We also recommend the following best practices:
1. Swipe away unused apps from the multitasking list to free up memory
2. Restart iOS devices on a regular basis, particularly if you use apps that require a lot of memory. Restarting the phone clears the memory to allow better data transfer.
3. Opening the app, or bringing it to the front, at least once daily will "hint" to iOS that it should be given higher priority. This will allow our app to upload Apple Health workouts faster.