Advanced TrainingPeaks users can estimate their starting CTL value in the absence of historical data.
TrainingPeaks Recommendation
We only recommend advanced users set an Estimated Starting Fitness (CTL). Most athletes will enjoy all the benefits of TrainingPeaks metrics and data without setting a constant by:
Setting their thresholds and zones.
Connecting their device and uploading historical device files.
Continuing to upload data over a 2 month period which is enough time for enough data to match the time constants for calculating Chronic Training Load.
Estimating Starting Fitness (CTL)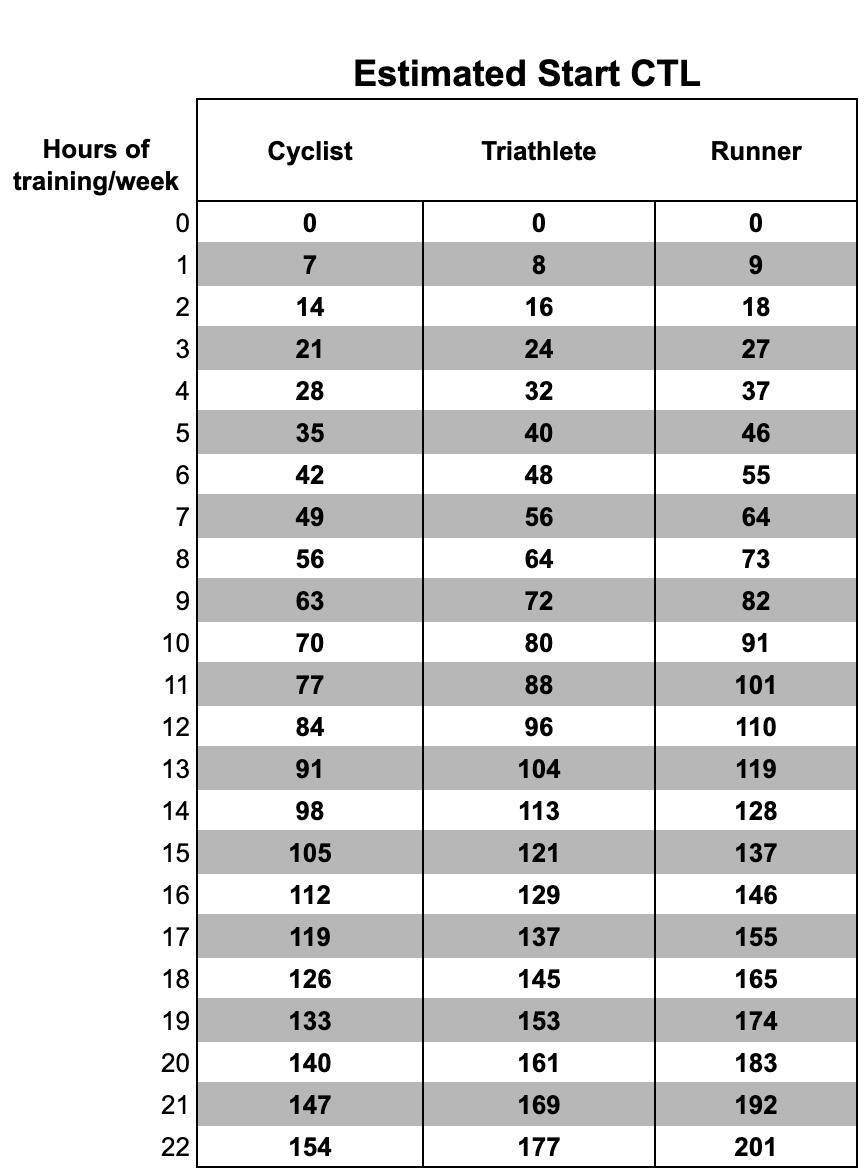 Estimated CTL values by sport type by hours of training per week for the last 2 months
To determine your starting CTL value, choose your sport, estimate your current average weekly training hours, and find the value in the above chart to enter into your ATP or PMC. Please note that the hour-derived CTL start value is an estimate based upon historical data.
Example
You're a cyclist that trains about 10 hours a week for the last two months. Based on the chart, your CTL start value should be approximately 70.
Log in
Click the 'Dashboard'*
Locate the Performance Management Chart and click the hamburger icon on the top right of the chart when you hover your cursor.
A pop-up window will appear. Under Select Parameters enter the value from the chart (70 in this example).
Enter the same value to both Fitness (CTL) and Fatigue (ATL).
Click Save and Close.
Important Caveat
Interpret the calculated values for Fitness (CTL), Fatigue (ATL), and Form (TSB) from the seeded CTL constant cautiously until sufficient data are available (about 4-6 weeks). Once you have 4-6 weeks of data with completed TSS values for every workout you will need to reset the starting values back to zero for the most accurate data going forward.
If you are using the ATP and you have 4-6 weeks of data recorded then the ATP will automatically use the correct starting CTL for your ATP starting date and you won't need to enter an estimated value.